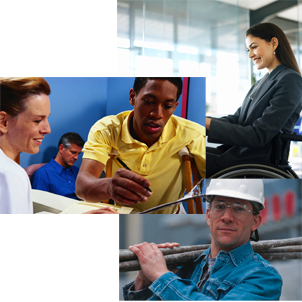 Workers' Compensation
PMI Resource helps you manage your workers' compensation insurance needs. The whole area of workers' compensation insurance can be quite complex and confusing. PMI Resource offers the following solutions that simplify
and streamline the process:
Workers' Compensation Administration - PMI Resource maintains all records and compiles all reports required under the insurance policy for employee wages and classifications. At your option, we also administer the periodic reporting of wages by classification, calculate the premium and remit directly to the carrier. Assistance in determination of proper classification is included in this service.
Workers' Compensation Insurance Coverage – Working with licensed agents and our network of carriers and agencies, PMI Resource works to procure workers' compensation insurance from a top rated carrier. We also administer the reporting of employee wages, and the calculation and payment of premiums directly to the carrier. Our team of OSHA-certified safety professionals provides assistance in determining the proper classification of employees.