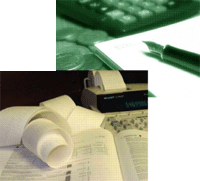 What is a PEO?
It's really quite simple — a PEO (at least "our" PEO) is
"The Perfect Employee."
We believe most business owners agree that their most important assets are their employees. We also believe that they agree that employees and employee-related matters are the principal source of most of their headaches. If this sounds familiar, would you be interested in hiring the "perfect employee?" (Someone who performs their job in an exceptional manner and without complaint.) If so, then allow me to present for your consideration the following resume` of my personal experience, training and qualifications. I am:
A Certified Public Accountant (CPA) and member of the American Society of Certified Public Accountants (AICPA) with more than 30 years of experience in public and private accounting, and
A Professional in Human Resource Management certified by the Society of Human Resource Management (SHRM) with substantial experience in both private and government sectors, and
A Certified Compliance Administrator for Section 125 Premium Only and Flexible Spending Account Plans, and
A Certified Compliance Administrator for COBRA, HIPAA & State Continuation of employee health insurance benefits, and
A Certified Payroll Professional and member of the American Payroll Association (APA) with more than 30 years experience in payroll administration and procedures, and
An OSHA Certified Safety Inspector and Trainer responsible for OSHA Audits, Safety Programs & Manuals, Accident Investigations, claims management, and
A Property & Casualty Insurance Agent, Licensed & Bonded (with Errors & Omission "E&O" coverage), and
A Registered Representative with the National Association of Securities Dealers (NASD) responsible for retirement plan administration and investment performance review, and
A Life & Health Insurance Agent, Licensed & Bonded (with E&O), responsible for employee benefit plan design, implementation and administration, and
I am always early, work late, never take breaks or lunch hours, and have never missed a day of work for any reason, including illness, injury or personal reasons.
Let me also share that I don't need any employee benefits (group major medical insurance, life insurance or a retirement plan). Also, the cost of my services will not be subject to payroll taxes or workers' compensation premiums. Finally, I will work on an "at-will" basis and can be terminated for any reason with 30-days notice. I am "The Perfect Employee."
I am a PEO.
Make me your next new hire!