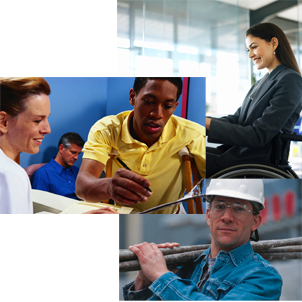 Safety, Loss Prevention & Control
A safe and hazard-free workplace is the goal of every concerned employer. Workplace injuries are costly, both in terms of human misery and the increased cost of insurance. Left unmanaged, the frequency and severity of the injuries may increase, which in turn may lead to dramatic and possibly devastating increases in insurance costs. The good news is that work-related injuries can be managed and controlled. The first step is a firm commitment to safety by management. The second step is a comprehensive risk management program that incorporates policies and procedures dealing with both loss prevention (workplace injury) and loss control (case management that monitors recovery and speeds return to work).
PMI Resource can help you reduce the likelihood of workplace injury, and, in the event of an injury, limit the cost of the claim through the following services:
Worksite inspections – Our OSHA-trained and certified risk managers conduct periodic OSHA-based site inspections and prepare reports specifying all hazardous conditions present with accompanying recommendations for removing or reducing the hazard.
Safety training – We work with you to develop a safety training program that takes into consideration your industry, and the specific risks that are commonly found in that industry.
Accident investigation and reporting – PMI Resource assists you in investigations and documentation of workplace injuries and preparation of the report of injury for submission to your carrier.
OSHA compliance – PMI Resource helps ensure compliance with OSHA regulations, including the preparation and maintenance of the OSHA 300 Log.
Loss Control – We conduct claims activity reviews and analyze losses to measure the effectiveness of safety programs and loss control efforts. We also help you establish effective return-to-work and light-duty programs to restore an injured employee to active work status as quickly as possible.